Experience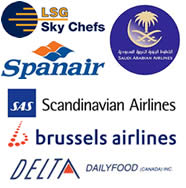 Brown Sugar offers you a versatile professional with a wide-ranging knowledge of the airline & retail industry and a proven track record in successful development of in-flight service concepts and change management programmes.
Excellent communicator and net worker with ability to motivate and influence others to improve service delivery and strive to achieve world class services.
Innovative and creative management style thrives in a dynamic and challenging environment.
Offers a great balance of innovative equipment & packing solutions combined with today's culinary advances to the most recent service delivery demands with an extensive global network
30 Years of Experience, Including:
Snr Manager Procurement Development - LSG Skychefs, UK
Responsible for innovative Procurement & Development strategies for all main line customers for all on-board products above the wing.
Key Responsibilities:
Develop, source & procure new innovative equipment & service lines for the travel industry
Work with key global customers to manage their development of new & improved product lines for all areas of service and delivery
Consult for key Middle Eastern carriers from a pan European perspective for their on board service delivery
Development service & equipment initiatives from concept to birth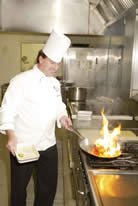 Key achievements:
Developed with key Middle Eastern Airlines new service equipment lines for both first & business class. Including china, glass wear & cutlery
Developed virtual service training tools to help promote in-flight excellence, eg : plating guides for airline galley crews / chefs of final on board plated products to assist them to handle the LSG product in a professional culinary manner all the way to the passenger. This will assist all concerned to further drive down FAC's and exceed first and business passenger expectations
Worked with a range of key retail product suppliers and packaging design teams to introduce retail to the in flight experience
Key member of the Abu Dhabi project team with ADAC to build their development team, implement processes as well as blending procurement & development together which was won and rolled out
Worked with Etihad on the development of their new economy class product including equipment, sourcing, delivery & training modules
Drive knowledge, experience and expertise to senior worldwide LSG Development Teams at global PM Workshops designed to facilitate standardisation of company global initiatives
Snr Development Manager - LSG Skychefs, Europe
Responsible for the Development of on-board service concepts, equipment, cuisine and delivery as well as key roles within corporate Management Frankfurt
Key Responsibilities:
Work with specialized agencies to design, develop & introduce innovative packaging & materials for the travel sector
Key development initiatives within the Corporate sector of LSG Skychefs
Initiating development projects for key food, beverage & packaging for the all Pan European customers as a one stop shop
Training of LSG global development teams to streamline and standardise work ethics
Initiating key procurement development strategies to maximise on volumes and minimise product lines
Drive the LSG CPU system to centralise operations in Europe for key production & distribution
Work along side the Snr corporate cross functional team on key strategies to build 'Total On Board Service Programmes' for key airlines under customer outsourcing programmes
Key achievements:
Involved in Developed of LSG CPU & current logistics networks to maximise efficiencies and reduce priced thru back fill across the UK
Developed global ethnic carriers network to share expertise, products, materials and to centralise key functions and initiatives
Designed innovative special meals concept along with key UK Societies with a secure outsourcing module to offer reliable quality retail products to suit this highly specialised and individual market. Product and innovative packaging ensures secure delivery to the customer every time.
Built key development catalogues to drive streamlining and rationalization thru out the development process for the UK
Snr Manager On-Board Service Development - Saudi Arabian Airlines, Jeddah, KSA
Management of the above wing on-board development department including world wide menu planning.
Key Responsibilities:
Development for all product above the wing including: equipment, IFE, giveaways, duty free & culinary product
The development, training and execution of food service concepts for domestic & international routes
Technical Advisor to the VP On board service programs (Saudi National)
Departmental budget planning, control and costing
Directly responsible for 3 stations in Saudi Arabia, 5 x Europe and 3 x USA for presentations, menu planning, costing, quality assurance and hygiene
Key achievements:
Designed and implemented a total new First Class Service. The Golden Service incorporated a complete package above the wing including, service concept, equipment, food, delivery, executive lounges, check in, crew training, road shows, etc
The new service not only offered complete flexibility on a 'service on demand' concept for the passenger but also offered a controlled saving to the airline of 13% in the first Year ($1.7M)
Designed and implemented Middle East domestic operation and developed the Saudi Arabian satellite units to maximise efficiencies
Project leader for the instillation and set up of the 'Calibre Meal Manager System' automated menu planning, recipe, costing, equipment balance and loading software
Managed, developed and streamlined the European and North American operations
Managed and developed a new centralised worldwide operation with Saudi & LSG Skychefs to one network supply chain to maximise and quantify efficiencies with a yearly saving of approx $3M
Production & Materials Manager - LSG Skychefs. London
Managing the Foreign Airlines Flight Centre at Heathrow Airport.
Key Responsibilities:
To evaluate and improve work practices within the day to day operation
To increase productivity and moral whilst reducing production costs through implementation of new systems
The development and testing of individual and batch recipes for production purposes
To develop menus for customer presentations and liaise with airline catering representatives
To implement and control hygiene standards
Responsible for staff training and development
Key achievements:
Set up out source model and CPU to supply all UK operations so improving productivity & profit
Set up the first segregated halal operation with in the UK in flight business to service the Middle East & Malaysia
Interiors Manager - Dobbs International. London
Managing a large In-flight catering centre at Heathrow Airport.
Key Responsibilities:
To liaise with the key customers, airline catering managers and product development teams
The development, production and launch of new products
Management of the purchasing and the stores
Management of the production team
Costing, menus and recipe formulation
In house quality and hygiene control
Departmental budget controls
Key achievements:
Reduced stock holding from 6 days to 3
Introduced recipe database
Research & Development Manager Retail - Delta Daily Food. Wrexham
R & D Manager for a major frozen food manufacturer catering for a wide range of demanding retail customers.
Key Responsibilities:
Develop quality lines with key retail outlets for food & packaging initiatives
All food presentations for new as well as existing customers both in house as well as off site
Costing of menus and recipes
Formulation of batch plant recipes
Sourcing of new suppliers and upgrading existing
Preparation of departmental budgets
Staff training and development
Key achievements:
Implementation of ISO 9001
Implementation of batch recipes & methods so reducing qualified chef levels so increasing profits
Redesigned and streamlined operational processes to improve production and knowledge windows and make more efficient use of existing resources
Worked with key stakeholders to build CPU and develop robust networks with in house production teams to produce streamlined products for frozen food business
Production Manager - Saudia Catering. Jeddah. KSA
Management of a very busy operation in the Middle East.
Key Responsibilities:
Preparation of recipes, specifications and costing for all airlines and restaurants outlets
Prepare yearly budgets, rostering for a brigade of 70, interviewing and overseas recruitment
Coordination of all food presentations for a very busy schedule of new and existing customers
Dealing direct with international customers and key development teams to ensure that they receive their product with a quality and consistency of the highest standard
Oversee the extensive party service catering for VIP outside functions
Oversee the day to day operation of the very busy restaurant service for 14 outlets
Key achievements:
Assist in further developing the outside catering department for private parties
Developed terminal catering and outlets for all 3 airports in Saudi Arabia
A member of the development team to install VIP executive lounges in all 3 airports
Set up of centralised production within Saudi Arabia to drive cost savings and standardisation
Snr Development Manager - SAS Service Partners. London
Responsible for a large in-flight catering unit at Heathrow Airport with a brigade of 53 chefs inclusive of 5 head chefs.
Key responsibilities:
Managing the production Teams
Developing products and service concepts for International Airlines
Training and development
Managing and extensive outside catering functions business
Arranging presentations and costings for existing and new customers
Maintaining manpower, budgeting, operational activities
Interviewing and recruitment
Key achievements:
Set up the Royal & VIP private jet operation to the Middle east
Streamline culinary workforce to drive savings